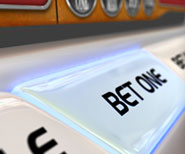 Overview
The Aberrant Gaming Suite includes many popular varieties of slot machines, and can be customized to add new functionality. All of our slot machines are multi-currency and multi-language ready, allowing you reach all of your potential customers.
Overview
Traditional Slots
Video Slots
HD Slots
Solutions
In addition to our flagship bingo software, a wide variety of complimenting games are made available to our partners. These games help to increase revenue streams by adding action and variety to the gaming experience. Aberrant's Slot Machine games are both fun and easy. They provide even the novice player with endless hours of enjoyment while encouraging wagers and decreasing redemptions.
Slots can be launched from within the Bingo application or as a standalone game. Players may choose to play slots in conjunction with the scheduled bingo games or independently. Multiple slot games can be played simultaneously for players who want the "extra action". A miniature version of the slot games can also be incorporated into the bingo game screen (often called mini slots or microslots) allowing a player to enjoy multiple games at the same time.